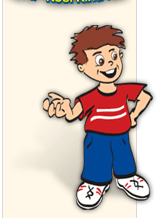 Try out our free downloadable lesson:
"Tanner and Manners"
Each lesson introduces a different social skill, with original songs that are written from and reinforce the course content.
Minimal preparation is required for parent, teacher, caregiver, after-school, or summer camp staff.
Fun poems, role-plays, practice drills, and other enrichment activities are included in the lessons.
The lessons offer a great deal of flexibility; the educator can choose how much time to spend on each lesson and how many activities to include.
"Tanner's Manners"
"Kool Kind Kid"
"Be a Kool Kind Kid"
Are registered trademarks of Etiquette, Etc., LLC All rights reserved.