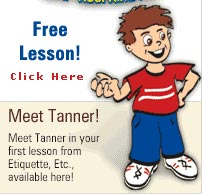 Download a FREE Article:
Email or Snail Mail
(Kids and Thank You Notes)
Read Testimonials
Click Here

Award-Winning Children's Manners CD
• Winner of 6 National Awards
• 17 Original Songs by Steve Megaw
• The FUN Way for Kids to Learn Manners
Winner:Parents' Choice Award, Teachers' Choice Award and Toy of the Year Award.

Teaching children manners, social skills, and etiquette to build character, self-esteem, and successful futures. The fun way for kids to learn manners. Tanner's Manners is an engaging, teacher-friendly manners curriculum that motivates children to learn and apply life-changing social skills.
Each of the lessons deals with a different area of manners for children, and is enhanced by fun, original songs written from the course content. Children learn while singing, role-playing, and enjoying many fun activities. The curriculum is appropriate for schools, afterschool programs, summer camps, daycare centers, and home-schools.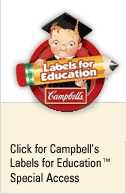 Labels for Education
Click here to go back to the Campbell's Labels for Education site!
Contact Us!
Click here to email any comments or questions you may have.